Absence Makes the Heart Grow Even Fonder. David Revisits Thailand – Yet Again.
I was fortunate to have had the opportunity to revisit Thailand in early December. The last time was in autumn 2019. I have missed it madly and badly. I first visited Thailand in 1976 – yes I really am that old – and it became a rather nice habit to travel around the country at least 2/3 times a year in normal times.
This time it was to travel to areas which are established, where we have been selling successfully for years. I needed to be reassured all was good. Plus I had the chance to experience some fantastic new hotels I had seen under construction but now complete.
Of all the countries in SE Asia, Thailand is the most advanced in reopening. They had several trial runs in mid-summer so, over the months, they have smoothed out most of the creases. A massive contrast to some of the neighbours who remain ultra-cautious to the point of "why bother, I will try again in two years, maybe".
*Read the update below on current protocols.
For Thailand, I needed a PCR test 3 days before travel, needed to show a double vaccination certificate, Thailand pass entry form (obtained online). I had hard copies, as easier to show. From arrival at Phuket airport to departure time it took less than an hour which included baggage collection, immigration, form inspection and PCR arrival test. I think they did my nostrils and eyes at the same time! Anyway, had my results within 4 hours of arriving at hotel and then free to go virtually as I pleased.
I visited Phuket, Khao Lak, Krabi, Koh Lanta and Bangkok – not bad for 6 nights! The weather was glorious, hot and sunny in the day, not that I had much chance to get some good rays,  and the evenings very pleasant. Apparently, a total contrast to November when it was 30 days of biblical rain.
My visit coincided with a long weekend domestic holiday so most places were busy, which was great to see. In brief, I visited Saii Laguna, Dusit Laguna and Banyan Tree in Phuket, all in the Bang Tao resort area. I have never seen the beach looking more spectacular and it was almost exclusive – apparently most Thai's don't venture onto the beach until mid-afternoon. All hotels were looking good, I am pleased to say.
Next day it was drive up to Khao Lak. Took about 90 minutes, crossing over the causeway bridge that links Phuket island to the mainland. Visited Kalima (first time I have seen. Nice family retreat with some unique features including floating bridge to the beach), Devasom which was looking so nice, Sarojin – wonderful. Then it was to La Flora to see the recent impressive enhancements to the beachfront pool area and finally to La Vela which has added a skateboarding park to its attraction. The village area of Khao Lak with its shops and restaurants looked about 50% open. Then it was drive back to Phuket for dinner at Banyan Tree and finally ended the day with a couple of hours in Walking Street Patong. So busy. It is a fun eye-opening bar focused area. Maybe not my choice to stay, but it needs to be seen at least once. There was an 11 pm curfew maybe, not sure, let's have another beer style.
The following morning it was a drive to Krabi. It takes about 3 hours, a little longer if you want to enjoy the scenery. To me, this is one of the most attractive drives in Thailand, for most of the journey you have tropical forest and rubber plantations on your left and spectacular limestone islands on your right. I stayed at the Banyan Tree Krabi – instant wow – So impressed. Also visited Tubkaak, which is located on the same beach. Traditional Thai style quality. Simply charming, rather than contemporary opulence.
Then it was up bright and early for a full day to Koh Lanta. It's about a 2 .5  hours drive south of Krabi, using a bridge and car ferry. I first visited Lanta about 20 years ago and it has hardly changed. And on this visit, it was even quieter, with most of the village shops closed. It was like going back in time. Visited our two main hotels on the island, Pimali and Layana, both looking impressive as usual, maybe even more so with empty beaches. Then it was back to Krabi for seafood dinner in the Ao Nang area. It's like a junior version of Patong but much less busy and more relaxed. Again would not be my choice to stay but if you want alternative restaurants and a few bars it is the place, 20 minutes drive from Banyan Tree.
Next morning up again early, but this time for a beach stroll and feet in the sea. The Tub kaek beach is just outstanding. Expansive soft sand, forest backdrop, a few long-tail fishing boats and numerous limestone islands on the horizon. Then it was Thai Smile one hour flight up to Bangkok. Stayed at the Peninsula which is always good. I really like the highly personalised traditional style and of course the riverside location. I love Bangkok with a passion and 95% of our clients seem to feel the same way. Other 5% find it too busy, congested and chaotic, but that is part of the appeal. I had the opportunity to take a night cruise which is always a good colourful way to see the city and to do a walking tour of the old China Town area. Pus in my few spare hours visited Chatrium Riverside and the newly opened Four Seasons and Capella hotels. Capella especially was super quality, on the high side of luxury price wise but very impressive.
My time in Bangkok was mainly taken up with meetings and seminars with TAT (Tourism Authority of Thailand) and Thai Airways. Good to see the future plans on promotions and some positive developments with the airline.
It was so nice to be back. My grateful thanks to TAT and Thai Airways for making it happen.
*Read the update below on current protocols.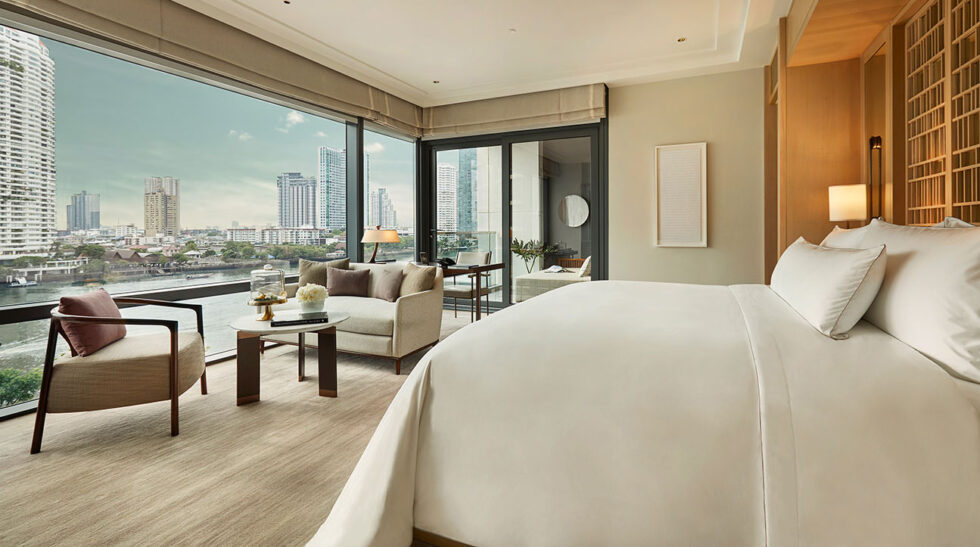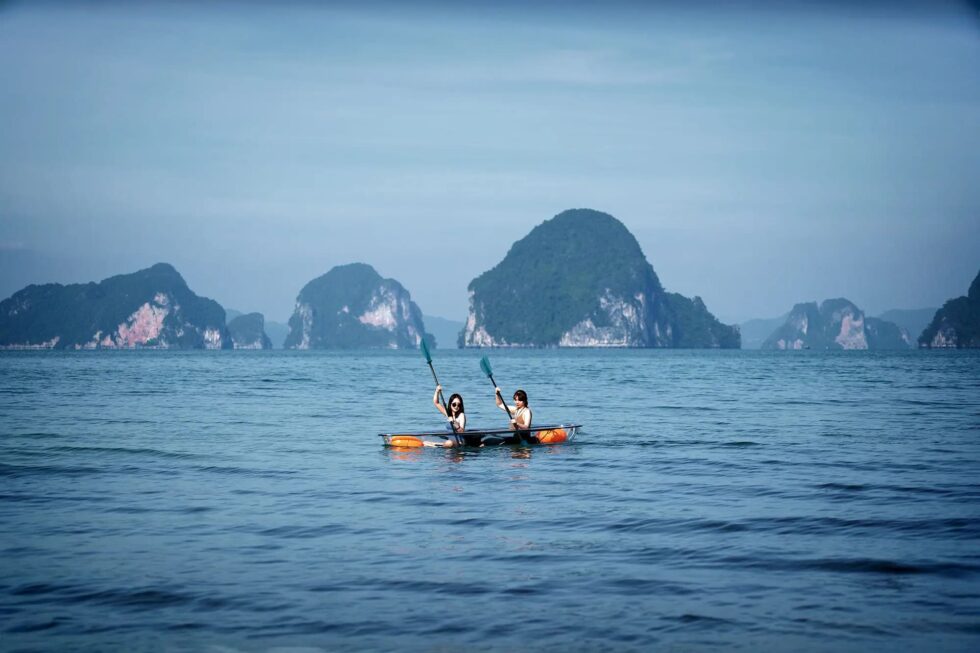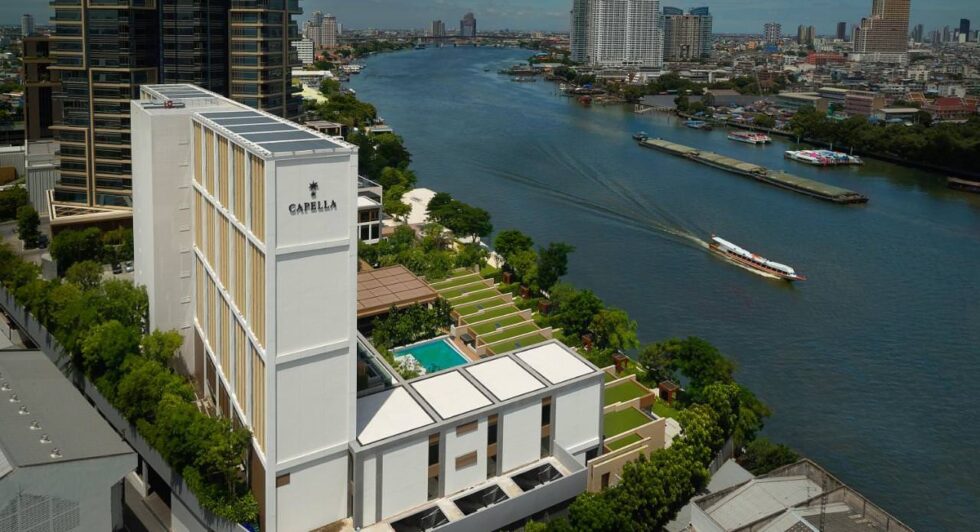 STOP PRESS – IMPORTANT CHANGE with the emergence of the Omicron variant.
Thailand has revised its entry procedures. From 22 December the entry will revert back to the Phuket sandbox scheme, which means you need to stay within Phuket for 7 nights before you continue elsewhere.
Krabi and Phang Nga are separate provinces to Phuket with their own regulations, even if you fly into Phuket airport.
This might change so please check with us for updates.
David Kevan
Chic Locations – Reassuring Luxury
"There's no such thing as the best hotel, just the right one…"
Click for Booking Terms, Price Guides & Flight Information
All price guides are Per Person Sharing Double Room (Entry level), based on travel between May and/or June when prices are generally at their lowest and include promotional offers.
Supplements will probably apply at other times, particularly mid-summer in the Med, and for rooms and/or transfers arranged for single travellers.
For example, the Caribbean and Indian Ocean prices for winter can be approximately double the May – June level and about 50% more in Asia.
For the Mediterranean & Canary Islands, Caribbean, Arabia and the Indian Ocean (except Sri Lanka) price guides generally include airfare and transfers.
*For Sri Lanka and Far East we show a per person per night hotel guide, excluding air fare, as arrangements tend to be individually tailored multi-centre itineraries.
Please refer to Travel Advice on our home page or look at www.fco.gov.uk as the Foreign Office may have issued specific destination information on safety and terrorism.
All of the holidays arranged by Chic Locations are fully bonded for your financial protection.
Contact a Chic Travel Specialist Today!
Call +44 (0)208 944 1973
Chic Locations
The Luxury Boutique
Tour Operator