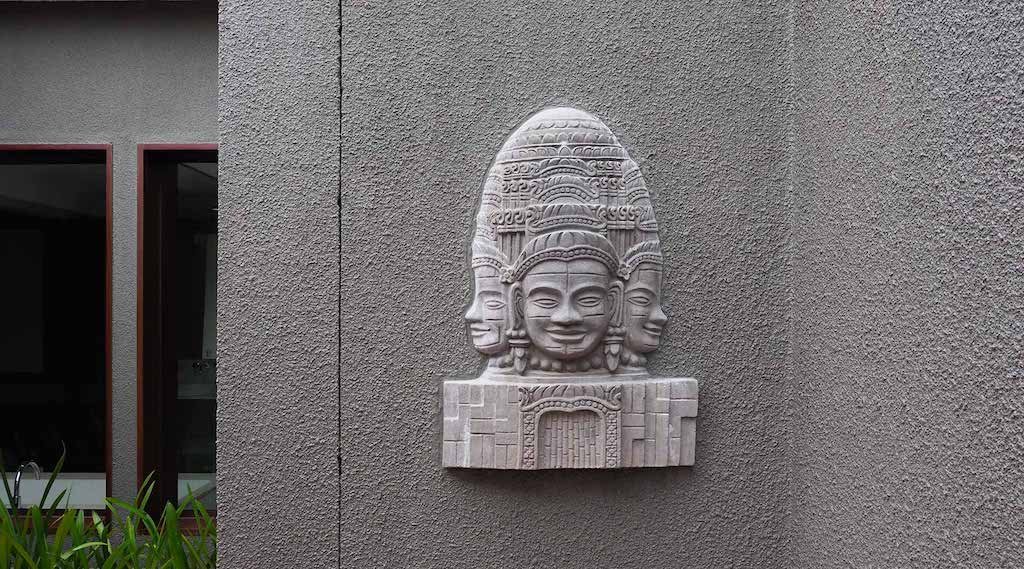 Cambodia, The Kingdom of Wonder!
One of the three counties that make up the collective Indochina, the territories once controlled by colonial France (the other two are Laos and Vietnam).
Cambodia is probably best known for the magnificent temples of Angkor, located just outside Siem Reap. Easy access from Bangkok, 60 minutes flight away. Or combine your stay with a  visit the capital Phnom Penh, an intriguing combination of French colonial buildings and busy Asian street life.
Visa on arrival, approx. cost US$35. Please ensure you have a full page for the rather impressive entry stamp/visa and that your passport has a minimum validity of 6 months. 
Weather Wise
The dry season runs from November to April with hot sunny days. The Wet season, usually with heavy showers and humidity rather than constant rain, is May to October.
Pleasures
The temples of Angkor are amazing, an absolute must on any tour of this region. If time allows, after exploration of the main sites (it will take you a full day as there are numerous sites), travel further outside the city to visit one of the lesser-known temples, equally impressive, fewer crowds. Maybe combine this with Ton Le lake, one of the largest in Asia. Also, Siem Reap is an attractive little city with some excellent restaurants. For this reason, we would suggest a stay of 4 days (3 nights).
Phnom Penh is the capital city, fascinating – think Havana meets Chiang Mai – busy Asian markets, crumbling colonial buildings, huge  Soviet-type squares and of course high rise which is seen as progress in this region. It is also the home to the genocide museum, gruesome and graphic – it is hardly a pleasure but a reminder on how far Cambodia has come in a few short years.
Realities
Angkor is busy, especially with regional tourism. Queues can be long, but it is still a must-see attraction. See note above regarding the suggested length of stay in Siem Reap.
The Magnificent Temples of Angkor & Surrounding Area
The very name conjures up images of jungle temples, Asian mysticism and exotic Hindu influence architecture. Built over 1000 years ago, it was then deserted for reasons never answered, and remained undiscovered until 1860 when a Belgian explorer, Henri Mouhot, was hacking his way through the jungle and suddenly came across this fantastic feat of building and design. It is now one of the region's most desirable destination for the curious traveller.
Even if you are not a fan of temples, the sheer scale of Angkor will amaze all but the most blasé. It is not just one temple but several, spread over 70 square kilometres, with the iconic Angkor Wat the largest. But also visit Ta Prohm with the temple structure buried within the roots of the trees, and the intricate stone faces of Bayon equally impressive.
The conventional entrance to Angkor is from the East gate, now known as the Chinese Gate as it where the large follow the flag tour groups seem to gather. Huge numbers. But there are much more pleasurable quieter alternatives, you still see the same things but with fewer people. Ask us about the Vespa tours for an incredible lifetime experience.
The town of Siem Reap is nearest to the temples, just a short 15-minute drive. It has seen considerable hotel development in recent years, and without doubt, it is much more commercial than a few years ago. But it still has great charm, as long as you avoid the rather tacky Pub Street, and the whole experience with the temples remains one of the highlights on any tour to the region. Spare time to walk around the town, it is easy to explore and has some very pleasant restaurants, Boutiques, and museums, with the Siem Reap river – from which the town takes its name – adding to the attraction. Actually the name Siem Reap means Siam Defeated, a reference to the time the Cambodians drive the Thais from their city.
And if you tire of temples, visit the huge Tonle Lake, one of the largest in Asia and explore the floating Kampong villages of the fisherman. A fantastic authentic heart-rendering experience as we travel to the villages slightly further out of town so untouched by commercial tourism. See also top tip below, a unique day of adventure and discovery as Tonle Lake can be combined with Beng Mealea temple.
TOP TIP
There is so much to see and do in Siem Reap and we now particularly suggest at least 3 nights. In addition to visiting the main temples at Angkor Wat, we suggest travelling further out for a generally quieter experience and we particularly suggest the incredibly hidden temple of Beng Mealea – it is an extra hour of travel but a fantastic unique experience.
Phnom Pehn and Song Saa Resort

Cambodia is now rapidly shaking off its brutal, relatively recent past – although there are still pockets of evidence of the horrors, both in Siem Reap and particularly the capital Phnom Penh with the genocide museum. Most of our clients will just visit Siem Reap as a 4 day (3 night) extension from Bangkok. However, we can also arrange itineraries to include Phnom Penh – a surprisingly interesting rather edgy city with crumbling French colonial buildings and huge Soviet-style parks and squares and more recent high-rise.
We would suggest 2 nights. Particularly suggested for those familiar with the region rather than first-time travellers, as it is wonderfully authentic but can come as a shock to the system.
With several flights daily from several of the major cities in the region combination holidays with Siem Reap including Kuala Lumpur, Singapore and Hong Kong are easy to arrange. Newly announced are direct flights from Siem Reap to the Vietnam beach resort of Danang (includes Hoi An) – best from March to September.
Combinations with Vietnam are particularly interesting and in addition to the air links with Saigon and Hanoi, you can also travel up or down the mighty Mekong River on a 7-night cruise.
In the south of Cambodia, just off the resort of Sihanonkville, you have the luxurious private island resort of Song Saa. See image below.
27 elegant villas, all with private plunge pool. A fantastic all-inclusive retreat for a few days. One of the most discussed resorts in the region, expensive without doubt, but that just seems to add to the appeal. There are regular flights from Siem Reap to Sihanonkville, followed by speedboat transfer to resort. Or you can stay in Phnom Penh and then travel down by road, a 4-hour drive mainly through rural countryside. The resort is generally at its best weather-wise December to April.
Within the Sihanonkville area you have now seen substantial tourism growth in the last two years ( from 2016 ) with many new hotels, almost as many casinos (36 at last count), direct flights from several neighbouring countries, mainly China with 90 direct flights weekly. Some of the slightly more remote beaches and islands remain charming and more exclusive but you have to select your resort and hotel carefully. Several new island resorts such as the Royal on Koh Rong, with Alila and Six Senses due to open soon. It would not be our suggestion you stay in the Sihanonkville main beach area.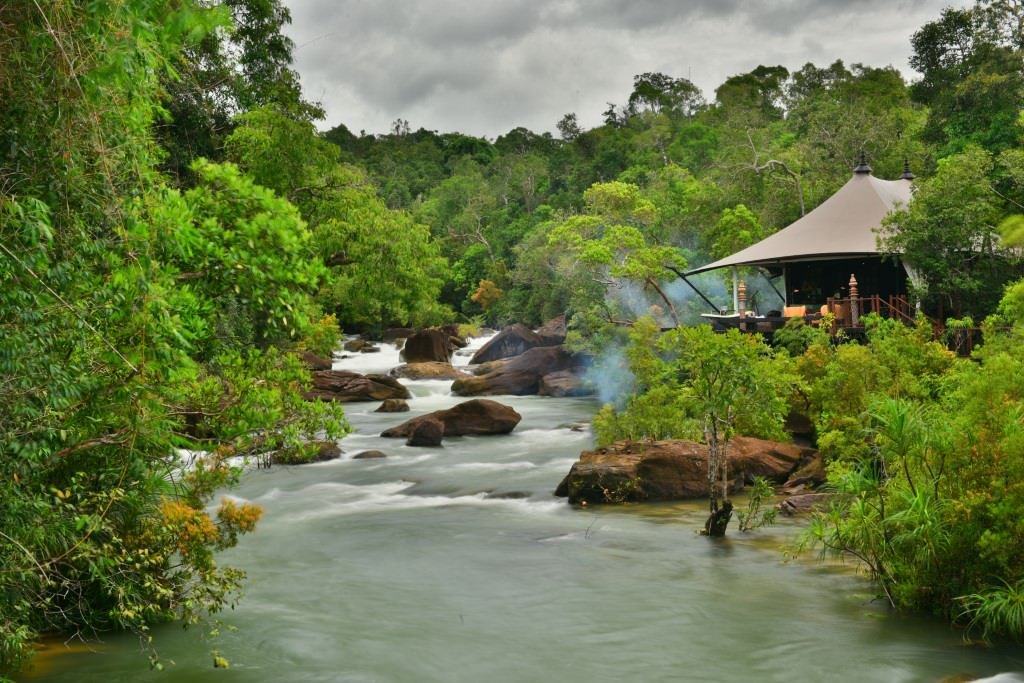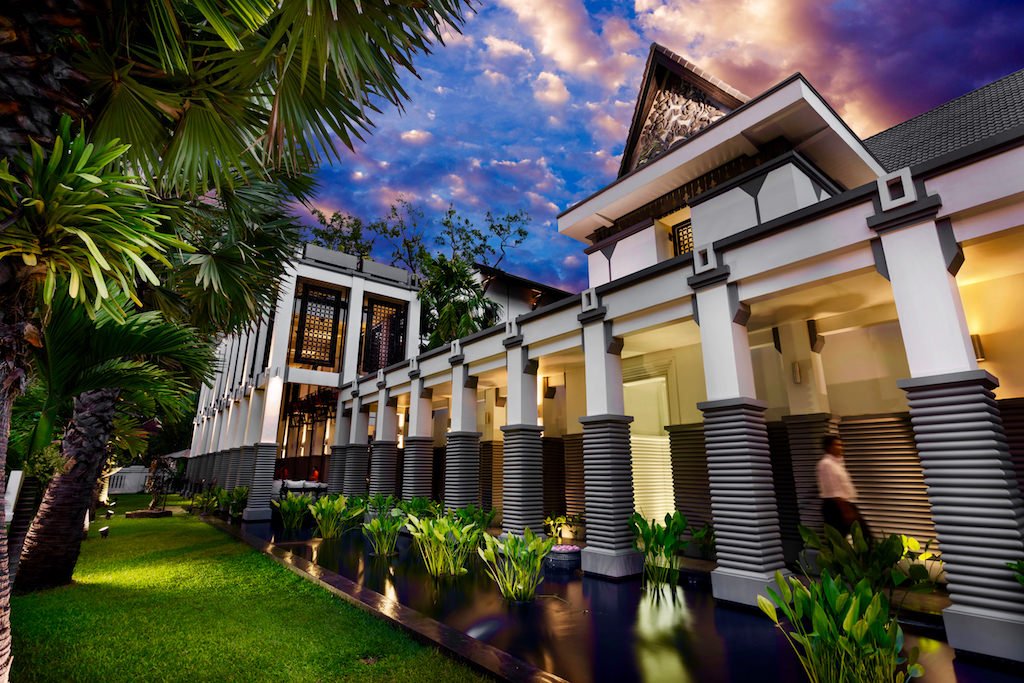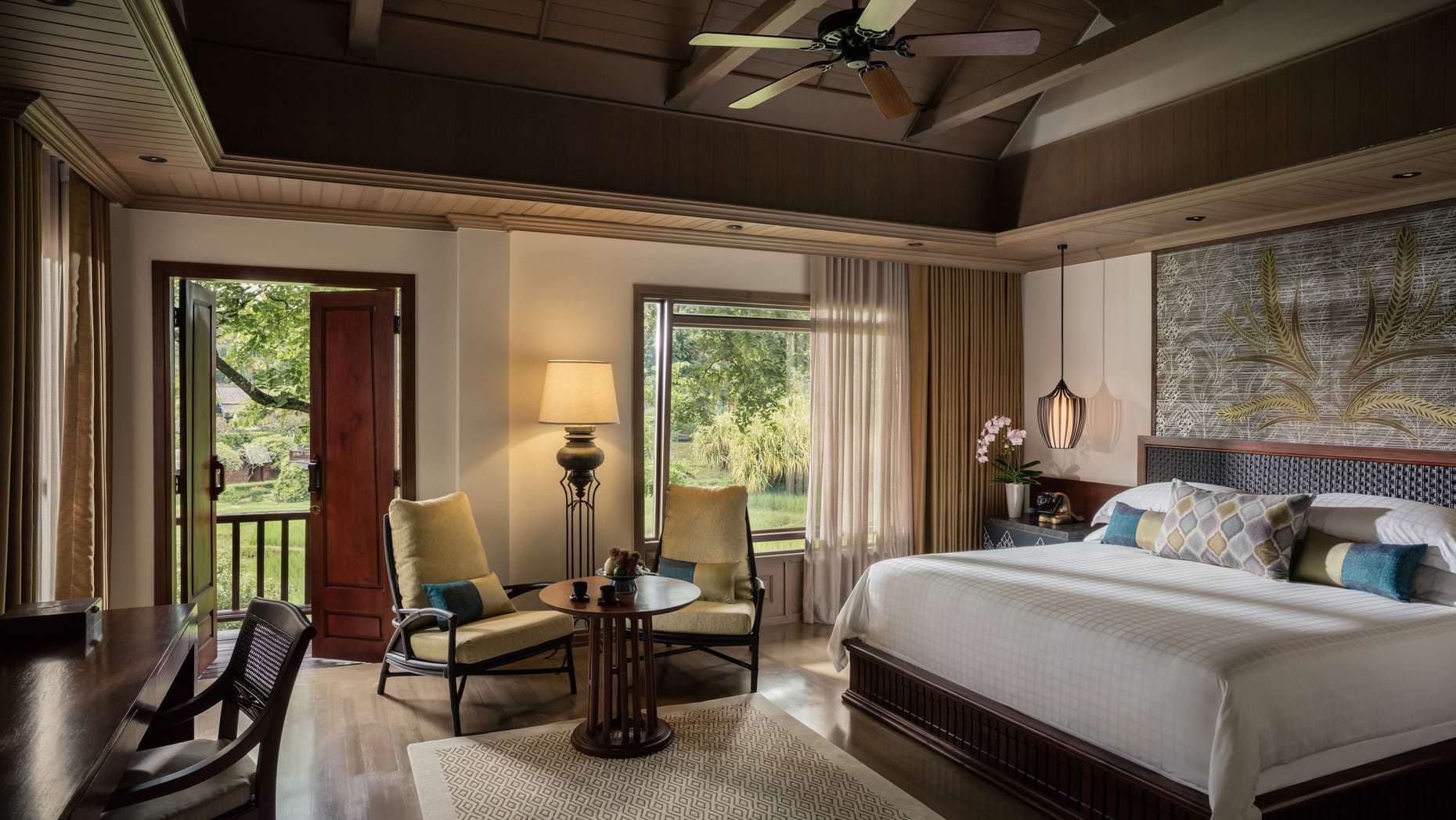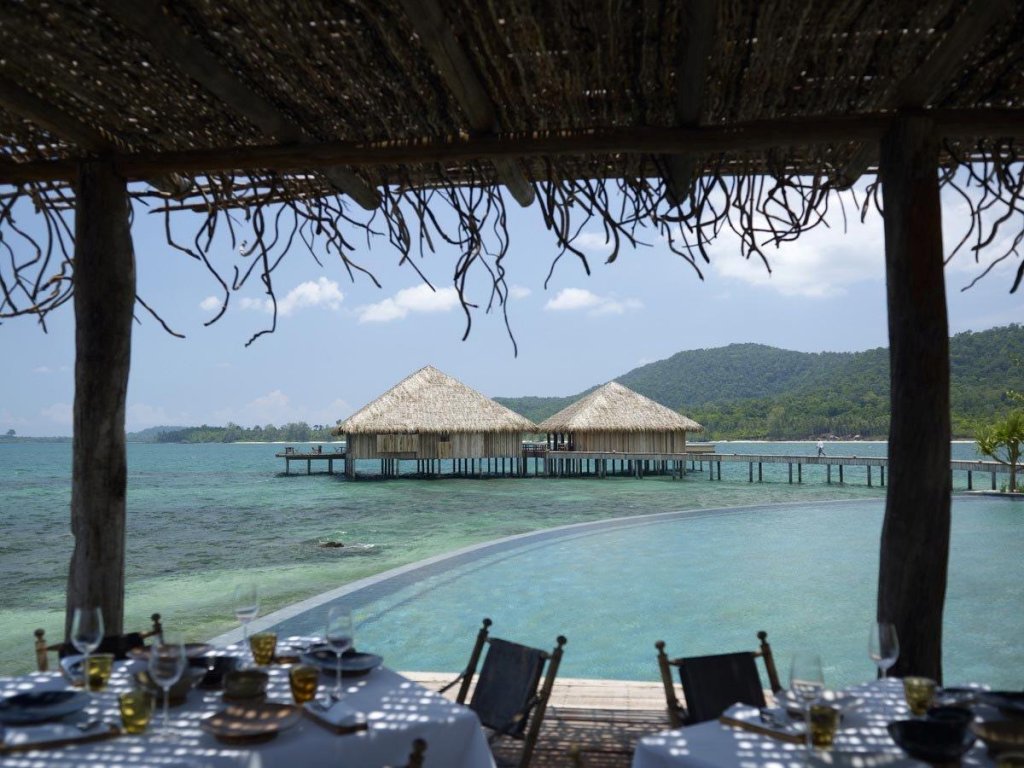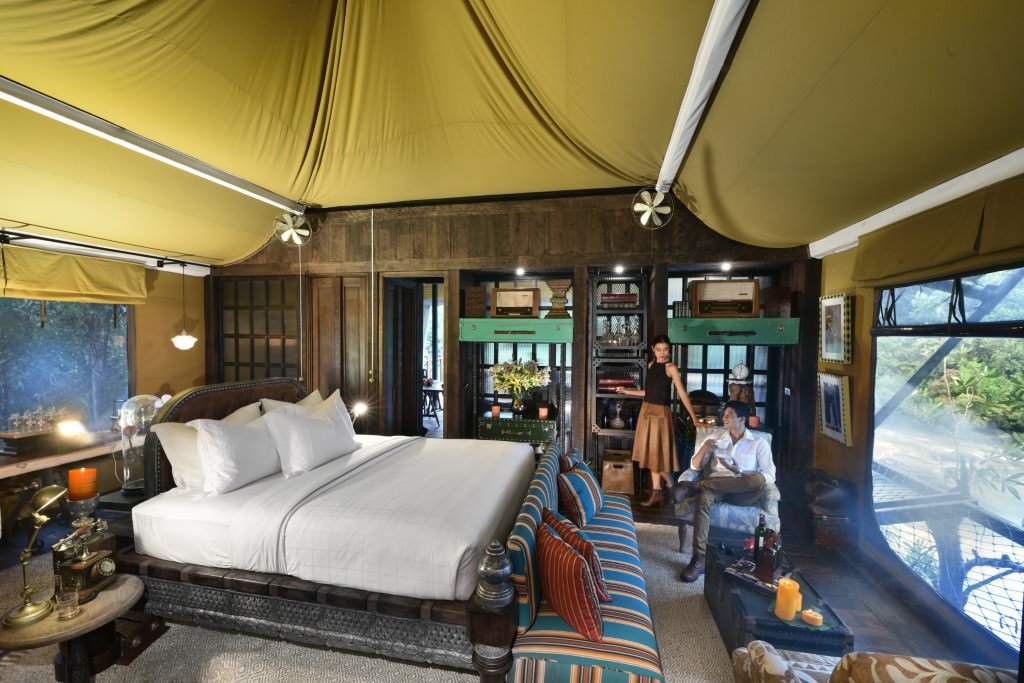 Cambodia – A Chic Location
"There's no such thing as the best hotel, just the right one…"
Click for Booking Terms, Price Guides & Flight Information
All price guides are Per Person Sharing Double Room (Entry level), based on travel between May and/or June when prices are generally at their lowest and include promotional offers.
Supplements will probably apply at other times, particularly mid-summer in the Med, and for rooms and/or transfers arranged for single travellers.
For example, the Caribbean and Indian Ocean prices for winter can be approximately double the May – June level and about 50% more in Asia.
For the Mediterranean & Canary Islands, Caribbean, Arabia and the Indian Ocean (except Sri Lanka) price guides generally include airfare and transfers.
*For Sri Lanka and Far East we show a per person per night hotel guide, excluding air fare, as arrangements tend to be individually tailored multi-centre itineraries.
Please refer to Travel Advice on our home page or look at www.fco.gov.uk as the Foreign Office may have issued specific destination information on safety and terrorism.
Click for our CHIC Locations Booking Terms & Conditions PDF

All of the holidays arranged by Chic Locations are fully bonded for your financial protection, with our
ABTA bond securing accommodation/land only holidays, and our ATOL licence (number 6389) protecting air inclusive holidays.
Contact a Chic Travel Specialist Today!
Call +44 (0)208 944 1973
Chic Locations
The Luxury Boutique
Tour Operator