More Clarification – Hopefully.
Things are moving along nicely with the reopening of the Thai resort island of Phuket (*Please read my update below). Local vaccinations are almost up to the high level expected by the Thai Government and to reassure the local population. The island will officially re-open during the first week of July.
All of our hotel partners on the island are eager to welcome back UK travellers. We have some really outstanding extra value promotional offers, not just for the next few months, but also running into 2022.
We have negotiated some great deals at Banyan Tree, Dusit Laguna and Saii Laguna in particular, but can also offer some extra temptations at Rosewood, Pavilions and Keemala.
So let us look at some facts and observations.
Airlines & Length of Stay
The name given to the reopening promotion is Sandbox. This runs from July through to October inclusive. *

Read my update below

.
There will be direct flights on Thai Airways to Phuket every Saturday starting from mid-July. It was envisaged there would be also a Thai Airways return flight from Phuket but this has been shelved – at the moment. So your return will be via Bangkok transit, but this is subject to approval once the airport logistics have been approved. As such Thai Airways are asking for a minimum stay in Phuket of 14 nights before you can fly to Bangkok, even for transit.
However, there are alternative flights on Singapore Airlines with transit in Singapore (no stopover) and your period in Phuket can be  6 nights (or even less) providing you fly home directly with the same routing. Connection times in Singapore vary day to day, some are quick others not so.
We do not suggest using Gulf carriers ( Emirates, Etihad, Qatar) as long as their home base remains on the UK Red traffic light list as we consider the risk, and possible Covid expensive hotel quarantine, high.
If you are looking to travel to other provinces within Thailand, your minimum stay in Phuket must be 14 nights, irrespective of the airline. You cannot leave Phuket until the 15th Day.
Documents and Certificates to Travel
You will need to have received your double vaccination and carry your certificates (not just the card), have a valid passport with at least 6 months validity from your planned date of return to the UK, comprehensive insurance with specific medical coverage of at least £75,000, have taken and received the negative result of PCR test 72 hours prior to your UK departure. Agree(d) to download the local Thai medical track and trace app onto your mobile phone as a condition of entry.
You will be tested again upon arrival at Phuket airport. Until you receive your negative test result – usually within 24 hours – you are confined to your hotel room. Additional tests are probably required during your stay. Probably on days 5 and 12 depending on your length of stay and these will be at local medical centres/hospitals – costs are around £75/£80 per test. These are the requirements from the Thai Government.
In addition, the UK Government require you to take a PCR test 72 hours prior to your return to the UK, complete a passenger locator form and book in advance two additional tests in the UK. As Thailand is on the UK "traffic light" Amber list, you will need to expect a 10 day home quarantine upon your return.
You are legally allowed to travel to an Amber list country, contrary to whatever personal view UK Ministers like to voice or covertly project. It is your decision.
You will need a CoE (Certificate of Entry) obtained from the Thai Embassy in London with email application. This is subject to review and may not be required – check at time. Whilst saying this, the Thai Government have always said they will only accept international travellers from countries with low risk. The spike in UK Covid cases with the Delta / India variant is causing worldwide concern. This remains a fluid situation.
The above assumes you are a UK citizen. Alternative regulations might apply to other nationals.
In Phuket
The island enjoys year-round popularity. The peak demand season is generally November through to April when the days are usually sunny, the seas calm and the beaches at their best. The month's May to October are known as the Green season as you get more rain. Although, in the southern islands like Phuket this tends to be in short, heavy bursts. We think red flag season is a more accurate description as you do have some beach erosion and higher swells.
As a guide, prices for the summer months are about 50% lower than winter months when you factor in things like free nights. Of course, all of our hotels have attractive swimming pools, with Banyan Tree, Pavilions  & Rosewood – and some at Dusit Laguna – having villas with private pool.
Very few of the international hotels on Phuket closed over the last 18 months, however, they reduced staffing in ratio with lower occupancy. They are now bringing back colleagues as demand increases day by day. Equally more onsite facilities are opening and we think that by early August there will be a sense of new normality. Restaurants and bars will be mainly open air rather than enclosed air-conditioned. When hotels have several restaurants they may not all be open at the same time, depending on occupancy and maybe weather. Equally village restaurants and shops will open once they see the demand is there. Our three suggested hotels are in the Laguna Resort area with restaurant choice and two villages close by with more options.
Just as an aside, If you have Thai friends in Phuket they can join you for meals and drinks of course, but under the Sandbox regulations, they are not permitted to stay overnight.
Beyond October
*The Sandbox promotion is a well-intentioned attempt by the Thai Government to reintroduce international tourism to the country. The idea still has its "confusions" but they will be ironed out week by week.
By October we think the island will be back into the full swing of things and you will have the flexibility to travel easily to other points within Thailand such as Bangkok and Chiang Mai.  Bookings are already coming in strongly for the peak season, especially from several time repeat clients.
So Why Travel now? 
The demand to revisit Thailand is as strong as ever. OK, the Sandbox promotion is for the low season months but the hotel value on offer is outstanding. Plus it shows the country is trying to be proactive. Yes, there are restrictions at the moment but if things all go according to plan they will be relaxed week by week, depending on the results.
At Chic Locations we are highly experienced in selling holidays to South East Asia and particularly to Thailand. If you wish to discuss any travel plans in greater detail please contact us.
David Kevan
Chic Locations
June 2021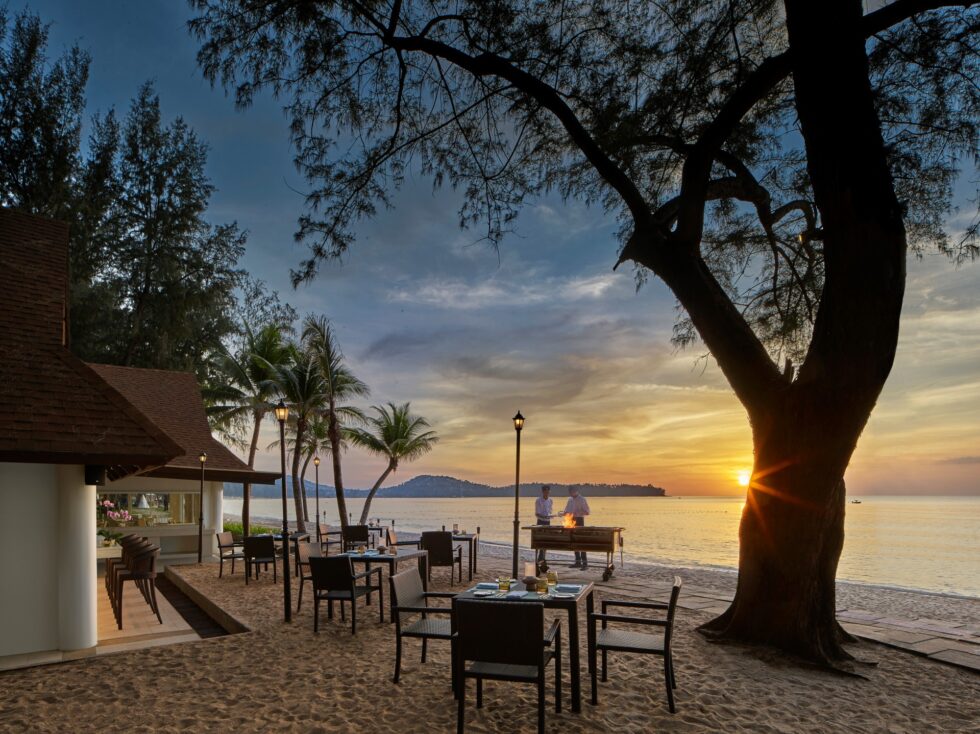 * The main plus points as of 5 August are :
Thai Airways will operate a weekly flight London / Phuket and return through to October and there is every probability this will be continued into the winter season. The flight departs London Heathrow each Saturday arriving in Phuket Sunday. The return is Friday late evening, arriving London Saturday. A 5-night minimum stay is permitted providing you only staying Phuket and returning directly to home base.
In addition, there are connections via Singapore (transit only no stop-over but that might change in September) plus you can now transit or stay in Dubai, Abu Dhabi and Doha en-route as they are now all in the UK Amber travel zone.
If you are double vaccinated you can travel to Phuket's neighbouring provinces such as Khao Lak and Krabi providing you have stayed in Phuket for 7 nights and adhered to local medical protocols. This opens up many more twin or maybe triple centre combinations including the fantastic Elephant Hills Jungle Camp.
Update 31 August 2021
Although the Sandbox scheme has improved week on week since its introduction in early July, and most of the southern resorts have a high vaccination rate and low cases, the UK Government has chosen to look at the entire country and made it all on the UK Red traffic light NO GO area. Good job our Government does not apply the same principle when trying to encourage people to travel around the UK.
As it stands, Thailand is now in the Red Zone, which essentially makes travel difficult. Most importantly, you have to quarantine in a hotel for 10 days on your return at a cost to you of £2000 per person. It will change, in our view late October. Any sooner might hold our Government up to ridicule on their decision making.
David – Chic Locations
"There's no such thing as the best hotel, just the right one…"
Click for Booking Terms, Price Guides & Flight Information
All price guides are Per Person Sharing Double Room (Entry level), based on travel between May and/or June when prices are generally at their lowest and include promotional offers.
Supplements will probably apply at other times, particularly mid-summer in the Med, and for rooms and/or transfers arranged for single travellers.
For example, the Caribbean and Indian Ocean prices for winter can be approximately double the May – June level and about 50% more in Asia.
For the Mediterranean & Canary Islands, Caribbean, Arabia and the Indian Ocean (except Sri Lanka) price guides generally include airfare and transfers.
*For Sri Lanka and Far East we show a per person per night hotel guide, excluding air fare, as arrangements tend to be individually tailored multi-centre itineraries.
Please refer to Travel Advice on our home page or look at www.fco.gov.uk as the Foreign Office may have issued specific destination information on safety and terrorism.
Click for our CHIC Locations Booking Terms & Conditions PDF

All of the holidays arranged by Chic Locations are fully bonded for your financial protection, with our
ABTA bond securing accommodation/land only holidays, and our ATOL licence (number 6389) protecting air inclusive holidays.
Contact a Chic Travel Specialist Today!
Call +44 (0)208 944 1973
Chic Locations
The Luxury Boutique
Tour Operator