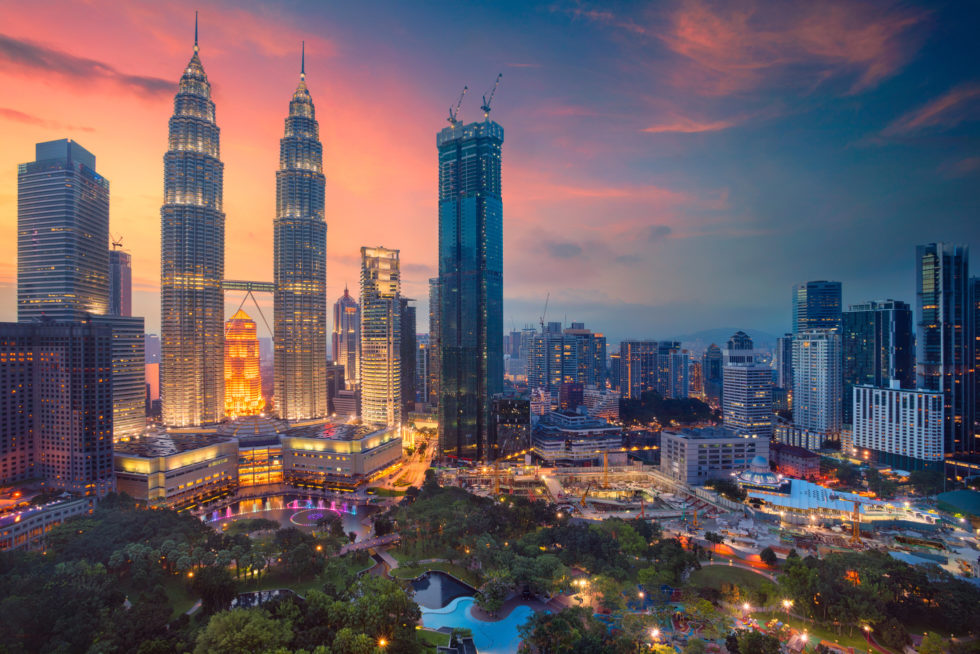 Malaysia is one of the most fascinating countries in the region with a rich diversity of cultures, scenery and resort variety.
Peninsula Malaysia stretches down from the border with Thailand in the north through to Singapore in the south, with the islands of Langkawi and Penang just off the west coast.  Flying east from the Peninsula you have the separate island of Borneo and the states of Sarawak and Sabah.
Flying time from the UK is approx. 12 hours to Kuala Lumpur (known as KL). Onward travel to Penang or Langkawi is one hour. Two hours plus to Kota Kinabalu, Sabah and Kuching, Sarawak.
Visa
Note – UK passport holders do not require visa, but it is essential your passport has a minimum of 6 months validity and clear page for entry / departure stamp.
Weatherwise
For the west coast of Peninsula Malaysia (Penang and Langkawi), the most settled months tend to be December through to April. May to November can see higher humidity and rainfall, usually in short sharp bursts, with some beach erosion and higher sea swells. The east coast has the reverse season, with particularly high rainfall and sea swells November to March and most settled weather in our summer months.
Sabah and Sarawak, being extremely lush and mountainous, has rainfall year round, but the summer months generally are the most settled.
KL and the southern part of the peninsula up to Langkawi can be occasionally affected by mid-summer forest fire smog coming up from the Indonesian islands further south.
Why Malaysia?
The tapestry of cultures, cuisine and incredible scenic contrasts. Superb beaches, rolling tea plantation hills in the central Peninsula. Dense tropical jungles, particularly on Sabah & Sarawak. The wildlife opportunities, either in Taman Negara in the peninsula or in Borneo. And of course the food. Some of the best in the region with Malay, Indian and Chinese specialities, frequently appearing on the same menu.
The Malaysians love sport, and both Man U and Liverpool enjoy a tremendous following here. Yet to meet a Fulham fan, but that also applies in London! But equally high in their affections are shopping and eating, and many of the upscale malls have complete floors dedicated to restaurants.
Kuala Lumpur is the capital city and has a fascinating mix of high rise glittering towers, traditional colonial buildings and lively street markets, plus probably some of the best value shopping in the region. We would suggest at least 2 clear days to explore the city before continuing or returning from one of the resort areas.
Penang is a highly developed resort island with villas and condominiums as much in evidence as hotels. Good restaurant options and an interesting and historic island capital, Georgetown (easy to explore on foot).
The island of Langkawi is more rural and considerably quieter. Much less commercial, with super beaches at their most popular in our winter and early spring / late autumn months. Just a handful of hotels and limited restaurant choice / night-life outside of the resorts.
The peninsula east coast has an even more traditional Malay style, reserved with the main attraction, the glorious beaches and the totally authentic small villages. This is also the location of Tioman, positioned just off the south-east coast, a small island that has a real escapist appeal. This side of the peninsula is at its best April through to October. November to March can see heavy Monsoon rain and high sea swells.
Note – In common with most tropical areas, the beaches in Malaysia are used by tourist and locals alike. Private beaches are not permitted.
For those in search of rolling hills and planter colonial influenced hotels, try the Cameron Highlands, located roughly halfway between KL and Penang. Very easy to incorporate into a touring itinerary. Another option would be the eco-extreme tropical jungle experience of Taman Negara, located just a couple of hours drive north of KL.
Sabah & Sarawak
All about Eco-Adventure and experiences, dense forests, great beaches, nature and, of course, the Orang Utans and Proboscis monkeys (see lead image). Sarawak, in particular, is totally unspoilt and the luxury comes in the unique experience, rather than the quality of the hotels, which tend to be modest rather than luxurious.
Sabah, whilst being eco-focused, is slightly more developed – with the state capital Kota Kinabalu (KK) offering a number of mega shopping malls, as well as authentic street markets, and has a much higher quality range of resorts. Here you will find Mount Kinabalu, one of the tallest in south-east Asia. The wildlife adventure tends to be in the eastern corner of the state, about 40 minutes flight from KK. Sandakan is the most famous eco retreat here, with turtles as well as Orang Utan.
For those looking for more exclusive adventure, we can offer tailor-made itineraries to the Danum Valley, made even more famous by "William and Kate" on a recent visit to Sabah.
If We Were To Be Critical…
Penang is highly developed, especially around the main beach area of Batu Ferringhi. The sea channel just off the island is one of the busiest in the world. This can be evident in the water quality at times! If nightlife and shopping are a priority, head for KL and Penang, although keep in mind Malaysia is more openly and rather proudly conservative than some of its neighbours.
As with all of this area, regional arrivals, and in particular those from mainland China, now tend to dominate. This will be both noticeable and audible. Also in KL, particularly in the midsummer months, the city takes on a more "Arabic" tone with many visitors from the Gulf States.
Currency
The Malaysian Ringgit is the main currency. The value does fluctuate, both up and down. All hotels have exchange facilities, plus ATM's and exchange booths are frequent. Crime against tourists is minimal, but handbag snatching has increased, particularly in KL. Credit card fraud is more common and you should keep your cards in view, and check on usage regularly.
Religion
Islam is the official religion and is practised by 70% of the population. Hindu, Christianity and Buddism are also widely practised. Respect for local customs and traditions is expected and appreciated.
Malaysia – A Chic Location
"There's no such thing as the best hotel, just the right one..."
Click for Booking Terms, Price Guides, Flight & Covid Information
COVID-19 - Updated Information – March 2023.
Virtually all countries worldwide have relaxed their protocols on Covid and there are very few restrictions. However, most countries review this on a month-by-month basis and will take immediate action should cases return or increase.
As a general statement, we would say travel is back to about 90% of its 2019 pre-covid levels – although with maybe less staff than before. This can particularly apply to airports with check-in teams and baggage handlers, and also in hotels. If you are a long-time repeat visitor to a specific hotel it is quite possible you might know your way around the property better than the newly appointed staff – smile and maybe even try to assist!
 = = = =
All price guides are Per Person Sharing Double Room (Entry level), based on travel between May and/or June when prices are generally at their lowest and include promotional offers. Supplements will probably apply at other times, particularly mid-summer in the Med, and for rooms and/or transfers arranged for single travellers.
For example, the Caribbean and Indian Ocean prices for winter can be approximately double the May - June level and about 50% more in Asia. For the Mediterranean & Canary Islands, Caribbean, Arabia and the Indian Ocean (except Sri Lanka) price guides generally include airfare and transfers.
*For Sri Lanka and Far East we show a per person per night hotel guide, excluding air fare, as arrangements tend to be individually tailored multi-centre itineraries.
Please refer to Travel Advice on our home page or look at www.fco.gov.uk as the Foreign Office may have issued specific destination information on safety and terrorism.

All the flights and flight-inclusive holidays on this website are financially protected by the ATOL scheme. When you pay you will be supplied with an ATOL Certificate. Please ask for it and check to ensure that everything you booked (flights, hotels and other services) is listed on it. This lists what is financially protected, where you can get information on what this means for you and who to contact if things go wrong. 
Please see our booking conditions for further information or for more information about financial protection and the ATOL Certificate go to: www.caa.co.uk.
Some of the flights and flight-inclusive holidays on this website are financially protected by the ATOL scheme. But ATOL protection does not apply to all holiday and travel services listed on this website. This website will provide you with information on the protection that applies in the case of each holiday and travel service offered before you make your booking. If you do not receive an ATOL Certificate then the booking will not be ATOL protected. If you do receive an ATOL Certificate but all the parts of your trip are not listed on it, those parts will not be ATOL protected.
Contact a Chic Travel Specialist Today!
Call +44 (0)208 944 1973
Chic Locations
The Luxury Boutique
Tour Operator