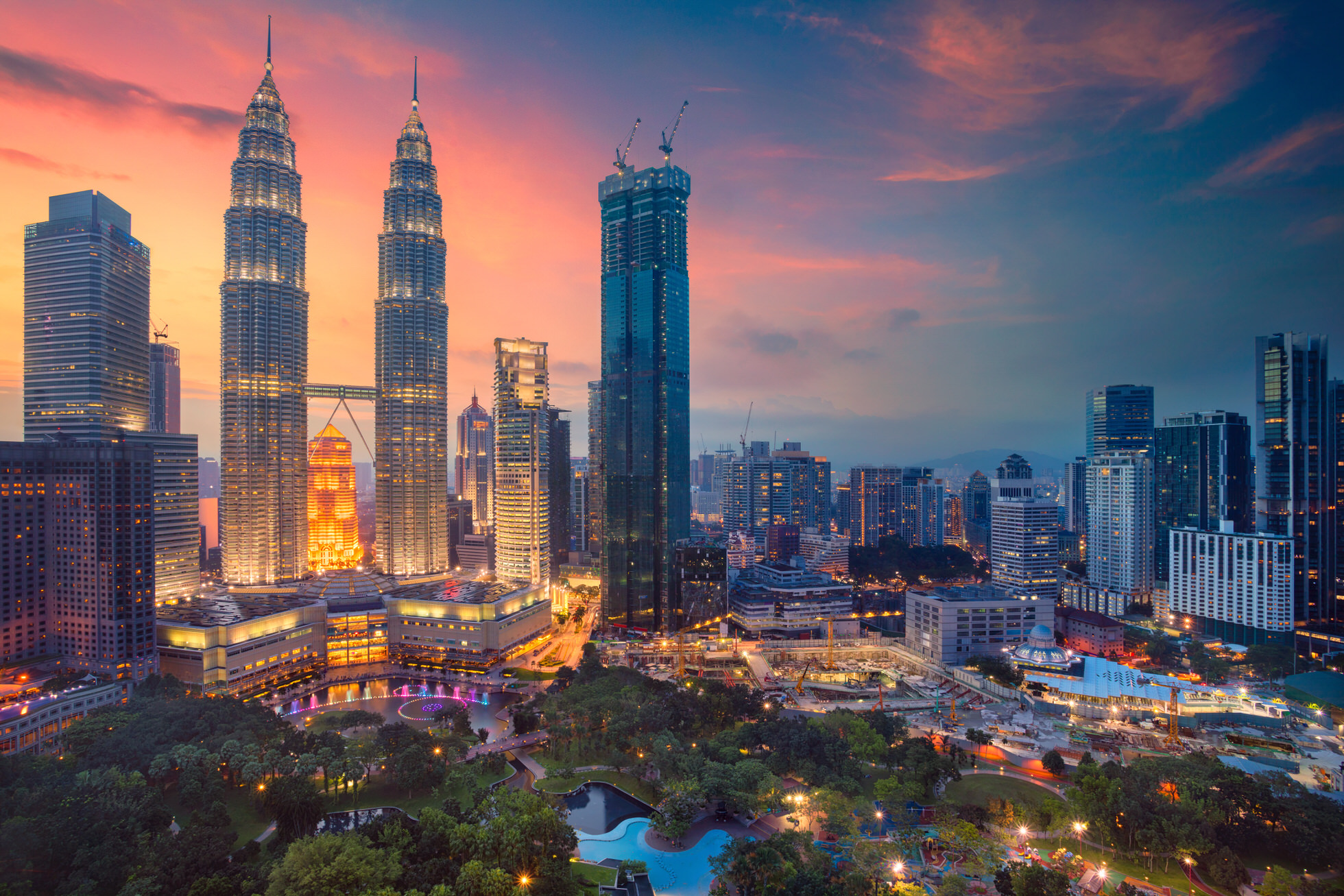 Kuala Lumpur (or KL as it is more commonly known) is the proud capital city of Malaysia. High rise buildings galore, but with just as many colourful and older traditional areas.
Lively street markets competing with luxurious shopping malls for the attention of your wallet, and the prices are some of the most competitive in the region. Malaysia is a potpourri of races and cultures and this is particularly evident in KL with its kaleidoscope of sounds, sights and smells.
The phrase 'Truly Asia' sums up the exotic appeal of Malaysia. Fascinating and diverse cultures, island retreats, eco-adventure options and varied sightseeing.
The iconic landmark of the twin Petronas Towers is visible from virtually every angle, dominating the city skyline. Most days it is possible to access the viewing platform. Tickets can usually be arranged in advance.
Fantastic selection of restaurants fully reflecting the diversity of influences found in Malaysia, but with just as many culinary options from around the globe. Street food is a real experience, and your concierge will be delighted to suggest some options. Jalan Alor is famous for its "hot from the wok" Chinese food, whilst Jalan Raja Muda Musa is well known for traditional Malay food.
Note – We think street food in Asia is all part of the travel experience, but maybe might not be suggested the night prior to a long international flight!
Where to Stay in Kuala Lumpur
We have access to a full range of hotel rates in Kuala Lumpur, but we enjoy a particularly good commercial rapport with The Traders Hotel. Part of The Shangri-La group, the hotel is probably more superior first-class than deluxe, with 571 rooms. However where it really scores is the superb value, the park-side location, and probably (no, undoubtedly) the best views of the famous Petronas Twin Towers, particularly good at night from the hotel's rooftop Sky Bar whilst enjoying a glass of wine.
Plus within a few minutes walk across the park you have some of the most upscale shopping malls,  with usually several floors dedicated to eating! Usually, Malaysians follow their greeting of "hello" with "have you eaten ?". They love to eat, and do not usually need an excuse!
Other hotels we frequently suggest in Kuala Lumpur are the Shangri-la, The Park Hyatt, Mandarin Oriental, the colonial-style Majestic and the delightful Villa Samadhi Boutique Hotel.
Kuala Lumpur is the usual entry or exit point on travel to Malaysia. Flying time from KL to the resort on the east or west coasts of peninsular is usually one hour. Two hours plus if you are travelling to the separate island of Borneo (Sabah & Sarawak).
KL basically has a constant climate that ranges from hot, to hotter, to hottest! Most days it will be mid 30's upwards. Short sharp showers are frequent and usually welcome. The mid-summer months have the highest humidity, plus occasionally in these months you can get smog caused by slash and burn forest fires in Indonesia.
During the mid-summer months, in particular, KL does attract many visitors from the Gulf states, it will be apparent. Think Edgeware Road, London with a high rise and heat! Visitors from China will also be evident throughout the year, they are now the dominant country of arrivals, just as they are with every other country in the region.[vc_empty_space height="20px"]
Kuala Lumpur Malaysia – A Chic Location