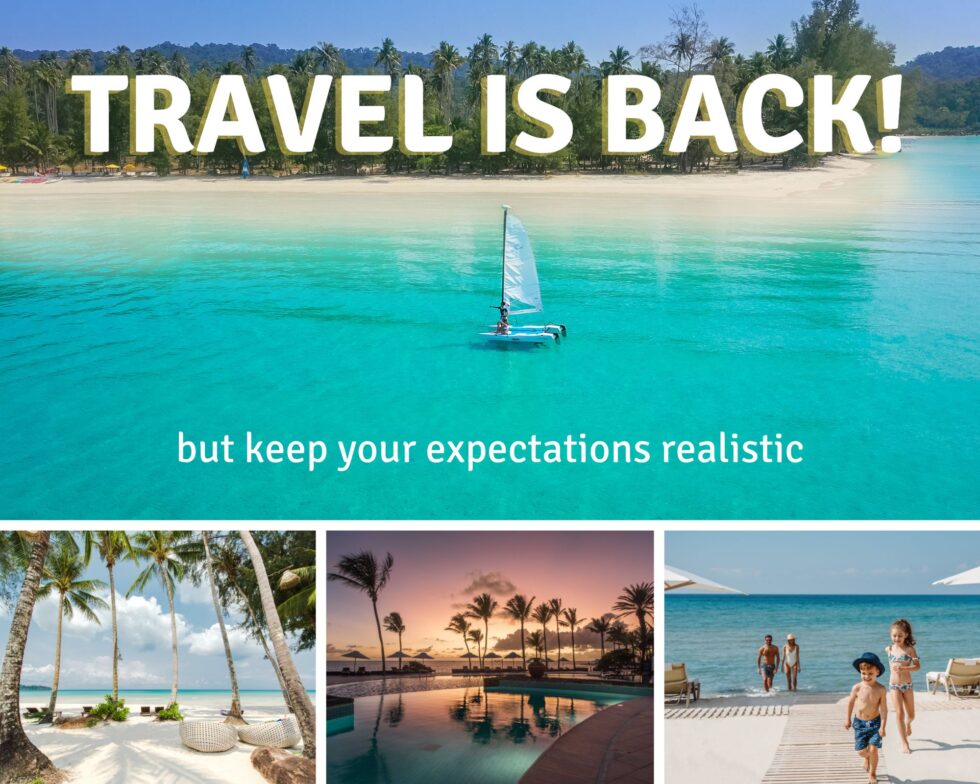 Confidence to travel again has certainly returned as Covid cases around the world continue to drop. Virtually every country (or at least those Chic Locations feature) has relaxed its entry protocols and whilst there are still a few in-destination regulations these are becoming fewer every week.
Plus documentation for returning back to the UK is now in most cases just a passport.
This is based on you having double vaccination certification, some regulations still apply to those who have chosen not to be vaccinated. In most cases, your passport must be valid for at least 6 months from your planned return date to the UK. Also, if you are travelling to an EU country your passport is valid strictly for 10 years from the date of issue – the few months extension that appeared on the previous passports no longer applies as a consequence of Brexit. Don't get caught out. If you need a new passport apply several months in advance. delays are common and will get longer over the mid-summer peak.
Virtually every destination featured by Chic Locations has seen a significant increase in business since April. This is also applying to visitors from many other countries in Europe and North America.
The Russian and Chinese travellers are still not there in the numbers seen in previous years, for contrasting reasons, but the arrivals are now evenly split over several countries including the UK. This is great and a welcome return to semi–normality for those involved in the travel industry and, of course, for our clients.  The desire is there to experience sun and sand, the clear turquoise waters and those magical sunrises and maybe even more dramatic sunsets. And the welcome is going to be sincere and heart–felt.
A few things to keep in mind: Most hotels had to reduce their staffing numbers down over the last few years. Business has returned quickly, but many of the staff are new and are being trained on the job. So the numbers may be there but the experience is not. This can be in several areas of hotel operations but maybe is most noticeable in restaurants. Be patient, getting stressed is not going to help anyone. If you are a repeat traveller to a particular hotel you will notice some familiar faces but the chances are several will have left the hospitality industry. Sad but factual. 
Just as we in the UK are noticing a decrease of food imports that is also applied in many other areas. The focus now is sensibly on locally grown & sourced products,  probably makes more sense, just a pity it has taken adverse events around the world to bring it to fruition.
Facemasks are still being requested on most flights, both in and out of UK. Most hotels still ask for masks to be worn in enclosed public areas and at buffet service table selection. You will be updated on the relevant protocols upon arrival at the resort.
The situation with airlines and airports has made headline news. I wish I could say it has been exaggerated but in my experience recently it has been true. OK, Heathrow has been good, with minimal fuss and no issues. Gatwick is a very different story. In short, the demand for travel has come back quicker than most airlines envisaged. Most have tried to offer on paper a similar schedule to 2019, same number of planes but with probably 45% less staff. It was never going to work despite good intentions. Airlines hoped staff would return but this has not happened and we can no longer entice workers from the EU.
So flights are being consolidated, delayed or even cancelled at short notice. This is happening to all airlines although the so-called low-cost models seem to be suffering more. Their cost base is artificially low – they say in response to client demand – but this is not going to resolve the situation. From my own recent experience in travelling to Bodrum, the flight was delayed three hours with virtually no information other than passengers sharing text messages. No airline staff or announcements other than flight boarding which was clearly untrue. For what I gather are cost reasons, the "lounge" seemed to be an afterthought room with not enough chairs, and the only facilities were 15 minutes back through security. Nothing was announced until 20 minutes prior to actual departure and then it was last call and incorrect gate, corrected after half the room had emptied.
No air bridge to plane as the low-cost airlines don't think it's financially justified so you walk and queue in the rain. To be fair the flight was up to expectations both out and the inbound arrived right on time – but then had to wait 30 minutes to disembark whilst they located someone to push the stairs to the plane. And immigration was a shambles with half the electronic machines declining passports – " Seek assistance " – but from whom, there is no one. Complete embarrassment. Gatwick gave me the impression it was very much a secondary airport in all aspects, shortage of staff at every turn leading to the same excuses time and time again.
So the good news is travel is back, the demand is increasing week on week, but keep those expectations realistic, especially in destination. It's a learning curve for many and they will get there.
Not sure what I can say about the airlines and airports/ immigration  – I hope it will get better quickly but there is nothing I am seeing that gives me too much confidence. But if you want to travel, and many do, it is something we have to realistically expect. This is not to deter you from travelling, far from it. Once you are there it will be so enjoyable, but the speed of recovery has maybe taken the airports/airlines by surprise and it may show.
"There's no such thing as the best hotel, just the right one..."
Click for Booking Terms, Price Guides, Flight & Covid Information
COVID-19 - Updated Information – March 2023.
Virtually all countries worldwide have relaxed their protocols on Covid and there are very few restrictions. However, most countries review this on a month-by-month basis and will take immediate action should cases return or increase.
As a general statement, we would say travel is back to about 90% of its 2019 pre-covid levels – although with maybe less staff than before. This can particularly apply to airports with check-in teams and baggage handlers, and also in hotels. If you are a long-time repeat visitor to a specific hotel it is quite possible you might know your way around the property better than the newly appointed staff – smile and maybe even try to assist!
 = = = =
All price guides are Per Person Sharing Double Room (Entry level), based on travel between May and/or June when prices are generally at their lowest and include promotional offers. Supplements will probably apply at other times, particularly mid-summer in the Med, and for rooms and/or transfers arranged for single travellers.
For example, the Caribbean and Indian Ocean prices for winter can be approximately double the May - June level and about 50% more in Asia. For the Mediterranean & Canary Islands, Caribbean, Arabia and the Indian Ocean (except Sri Lanka) price guides generally include airfare and transfers.
*For Sri Lanka and Far East we show a per person per night hotel guide, excluding air fare, as arrangements tend to be individually tailored multi-centre itineraries.
Please refer to Travel Advice on our home page or look at www.fco.gov.uk as the Foreign Office may have issued specific destination information on safety and terrorism.

All the flights and flight-inclusive holidays on this website are financially protected by the ATOL scheme. When you pay you will be supplied with an ATOL Certificate. Please ask for it and check to ensure that everything you booked (flights, hotels and other services) is listed on it. This lists what is financially protected, where you can get information on what this means for you and who to contact if things go wrong. 
Please see our booking conditions for further information or for more information about financial protection and the ATOL Certificate go to: www.caa.co.uk.
Some of the flights and flight-inclusive holidays on this website are financially protected by the ATOL scheme. But ATOL protection does not apply to all holiday and travel services listed on this website. This website will provide you with information on the protection that applies in the case of each holiday and travel service offered before you make your booking. If you do not receive an ATOL Certificate then the booking will not be ATOL protected. If you do receive an ATOL Certificate but all the parts of your trip are not listed on it, those parts will not be ATOL protected.
Contact a Chic Travel Specialist Today!
Call +44 (0)208 944 1973
Chic Locations
The Luxury Boutique
Tour Operator